This is Annie, the creator of the Lady Love brand! She is a Celebrant, an MC, a singer and a DJ, who will leave you and your guests on a LOVE BUZZ (that's the high you get from basking in ceremonial celebration that is actually creative and genuinely entertaining). Annie is based on the Gold Coast but she delivers weddings world-wide.
Annie is like a tasting platter of wedding day treats – a trio of dips, if you will – with no corn and no cheese, so you can rest assured your big day will be free from moments of cringe. She has delivered hundreds of ceremonies for couples all over the world, and DJ'd and MC'd some of the industry's biggest events. With a decade of weddings under her belt, Annie comes with a plethora of experience, network connections, and unbridled enthusiasm.
She writes unique, individualised ceremonies that tell your story and express who you are as a couple. She loves finding out what you adore most about each other, what makes you stick together – your glue – and how it is you came to find yourselves in this wondrous place, where you have decided you want to do life side-by-side.
Annie makes it her mission to ensure that the small half hour window of the day in which your ceremony takes place is the absolute highlight of your wedding. And as if that isn't enough, just watch her set your dance floor on fire.
Annie takes on a limited number of weddings each year so if you think she's got the right stuff for yours, get in touch today!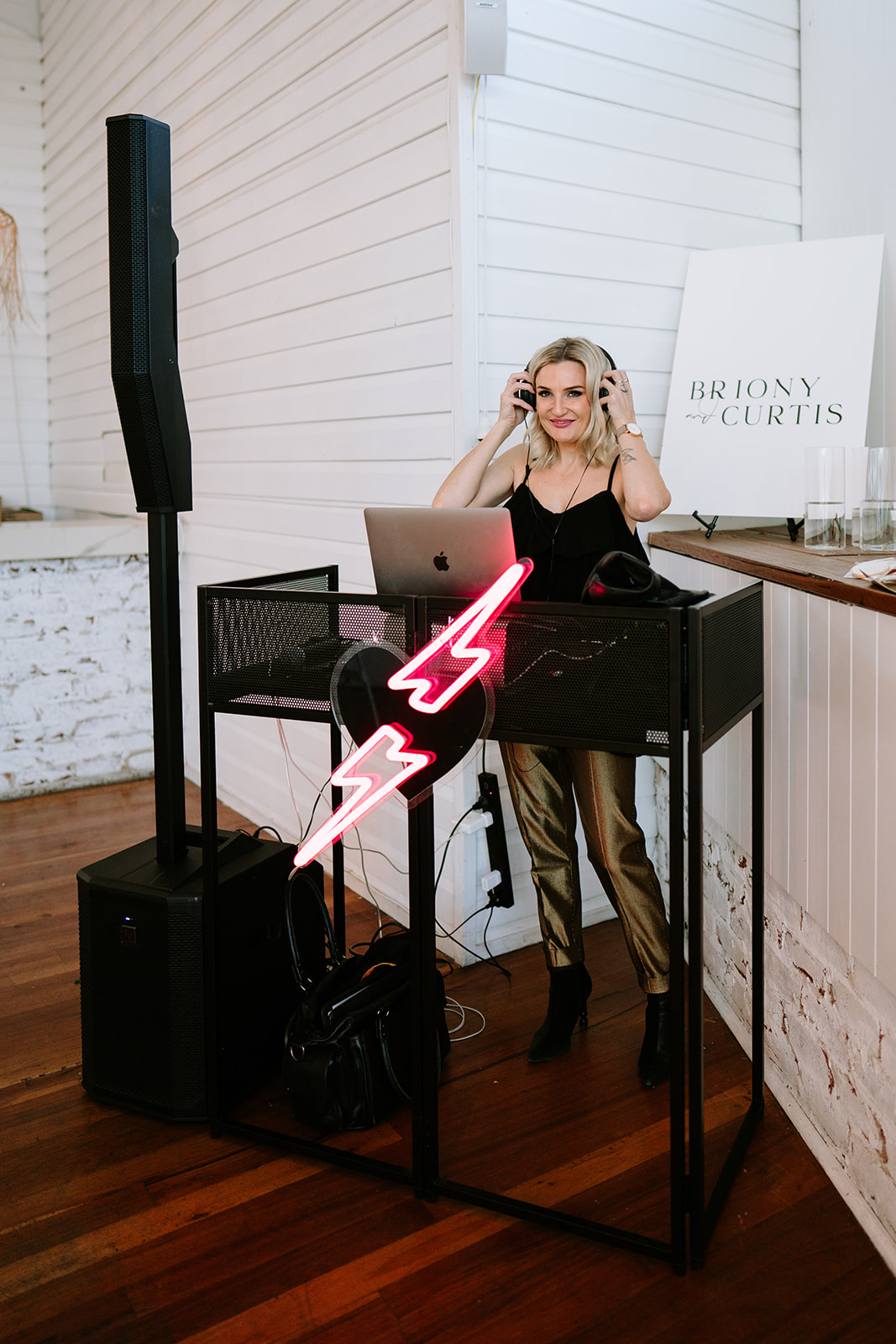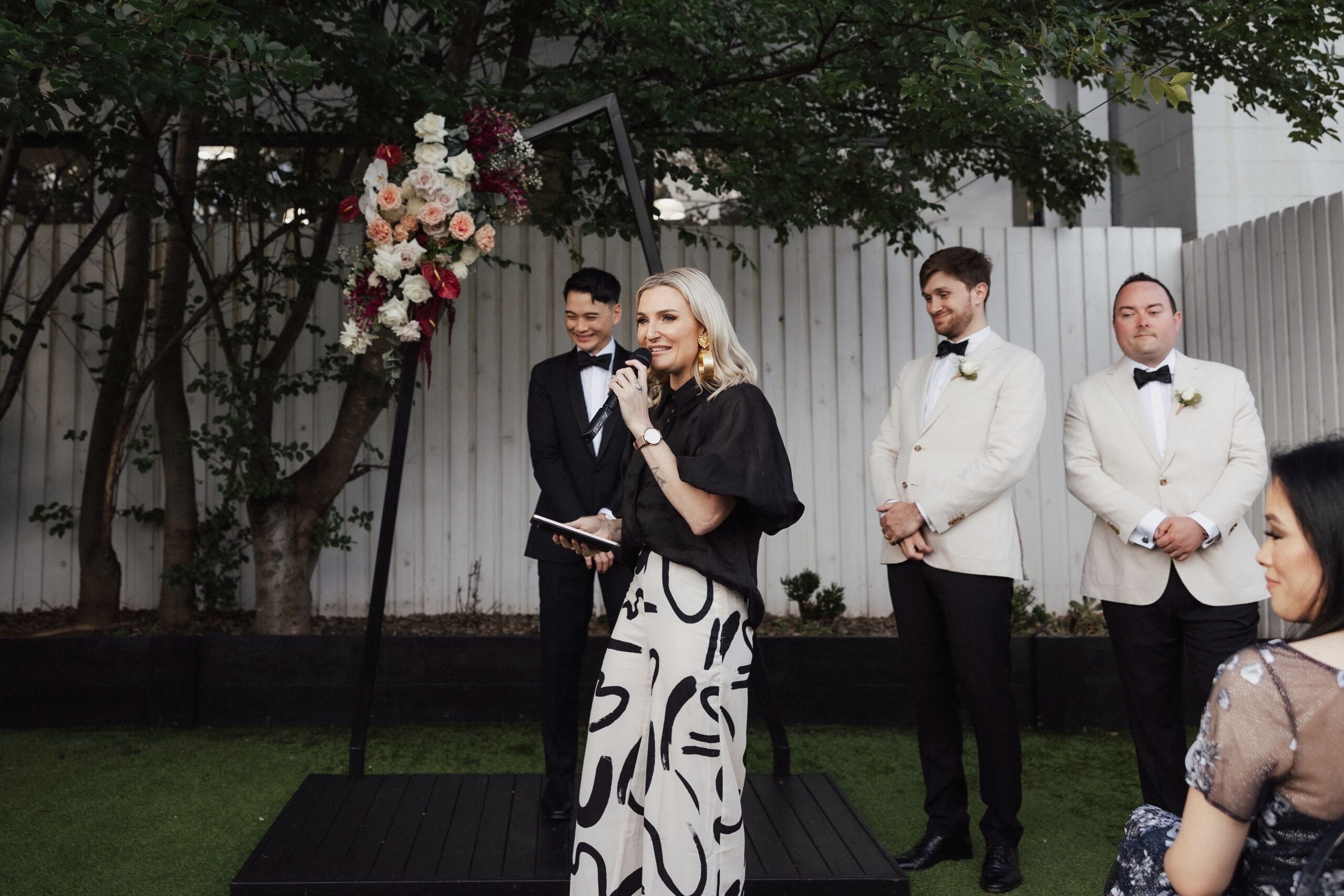 VIDEO COURTESY OF CHANNEL 7
AVAILABLE WITH PHOTOGRAPHY + VIDEOGRAPHY
ANYWHERE AROUND THE WORLD
"If you want a celebrant that's crackpot-funny, sharp as a sideways glance from Fabio, and with more buckets of empathy than you can reasonably carry up a flight of stairs without the aid of some kind of strong supporting device, this woman is your celebrant."
– Oli Sansom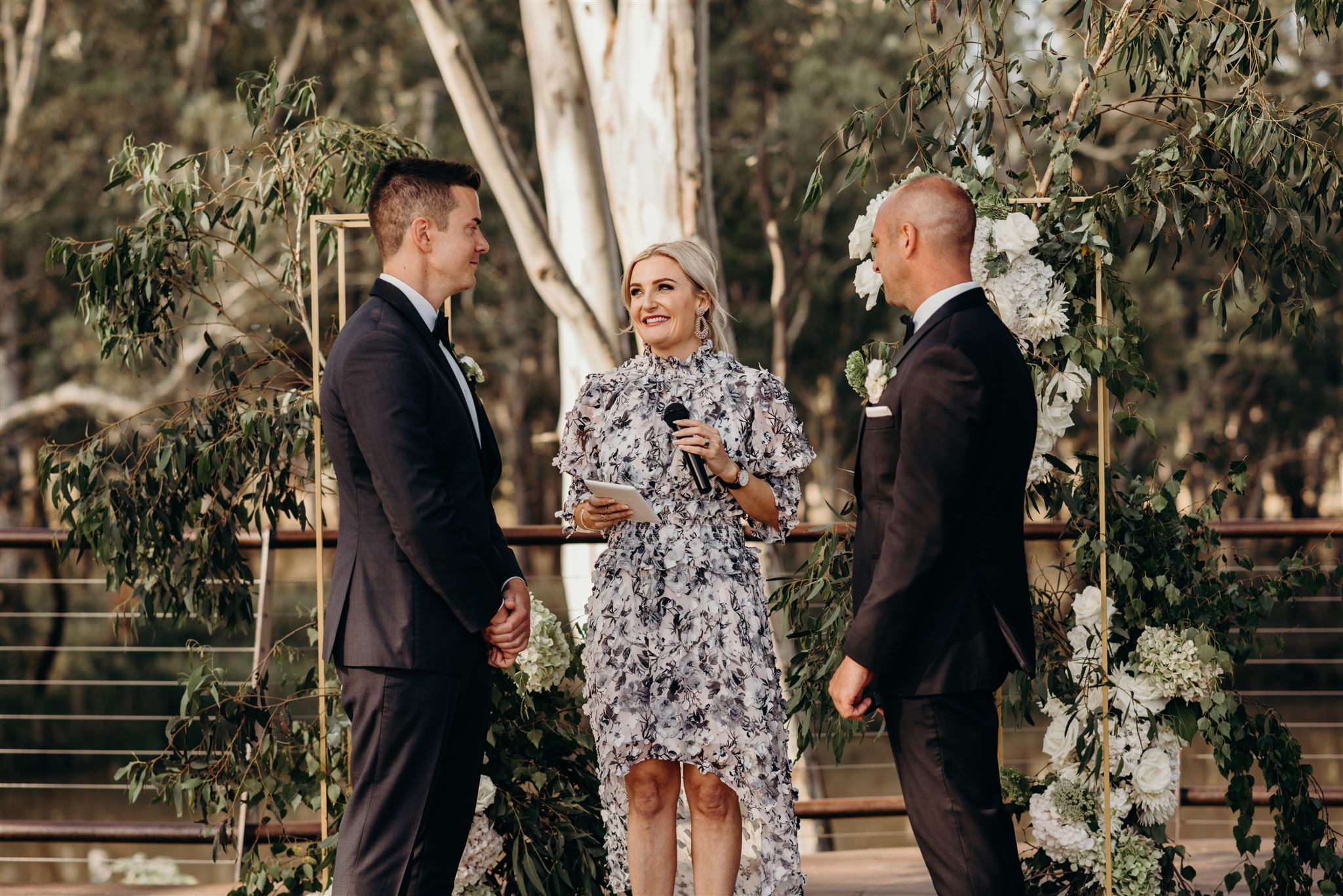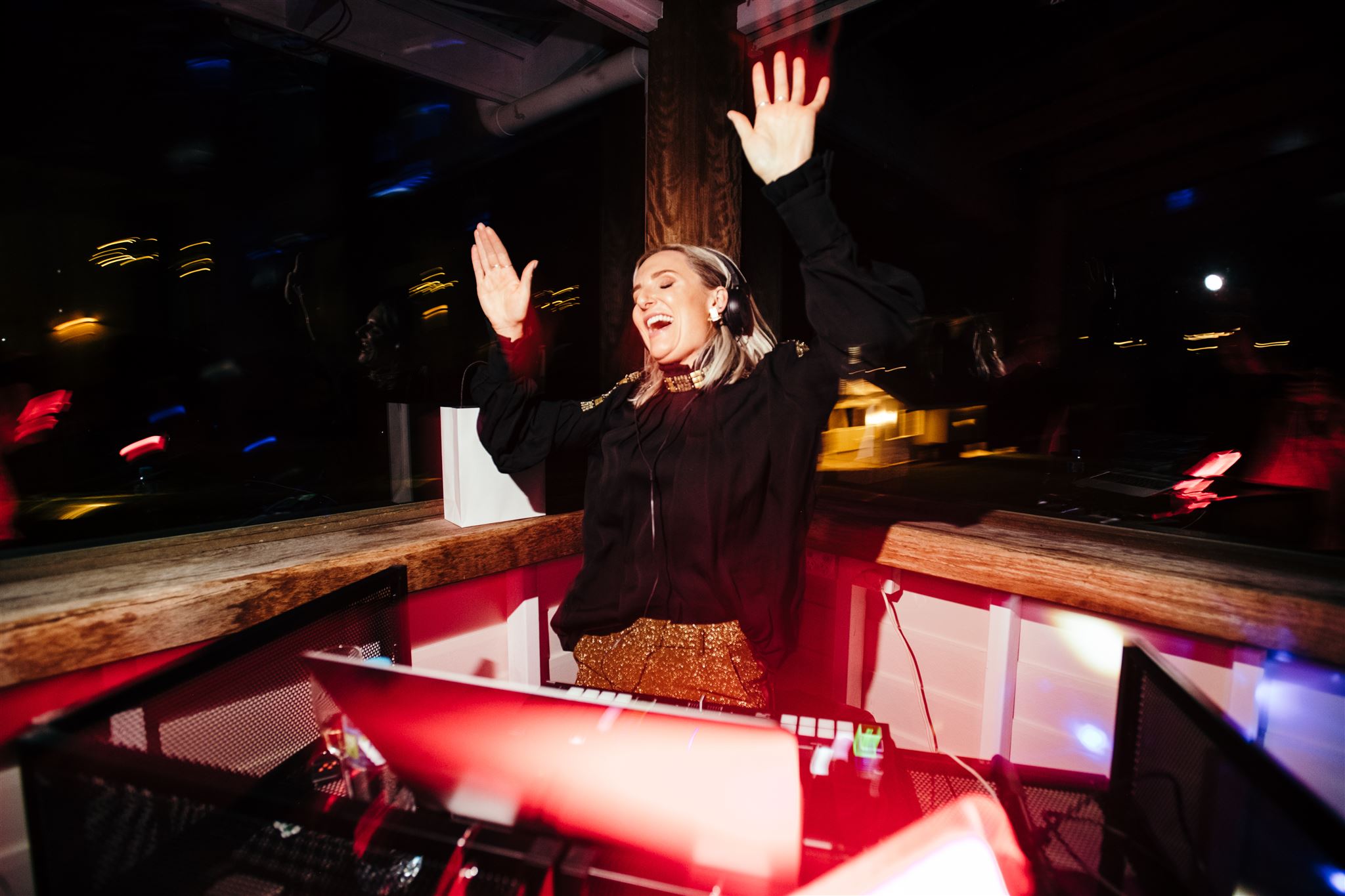 Beautiful Annie from lady love was so incredibly amazing throughout our whole wedding and planning process. Since our first meet and greet, to our zoom catch ups, to the big day itself, she made every step of the journey fun and stress free, while gently guiding us on what happens next. She allowed us to be ourselves, not putting any pressure to stick to traditions that didn't hold any meaning to us.
We adore the way she adds a personal touch to the structure of each ceremony, with a perfect balance of humour, inclusivity of the crowd and beautiful, heartwarming stories.
We were lucky enough to have Annie stay on at our wedding reception to MC and DJ, and she certainly kept the good vibes rolling all night. So many people mentioned what a legend she is and we feel so grateful to have her as a huge part of our day. We can't thank you enough Annie!
Annie… beautiful, talented, hilarious, wonderful Annie. We said it before and we'll say it again, what a bloody woman!? Is there anything you can't do, Annie!? The moment you arrived on our wedding day, we felt at ease. We felt an instant 'she's here, it's all going to be okay.' And man, it was so much more than okay! We had so many guests ask us how you were related to us? Or how long had we been best friends? Not only did you know everything about us and capture our story so much better than we could have ever told it, you were so passionate about it. The whole day, you were 100% committed to our day and we appreciate it – we appreciate you, so, so much. What really stood out for us was that from the moment we met you, you pushed us to be ourselves. You pushed us to think about what we wanted and why we wanted it. Our wedding was different, unique, perfect and our absolute best day, because of you. Because you told us it was okay to do things our way, in fact, you demanded it. And we love you for that. We love that you are so humble and gracious that you don't actually know how incredible you are. We wanted to treat you like royalty because to us you were. To us, having you at our wedding day was like the return of The Beatles, we fangirled THAT much. You're a rockstar in our books, Annie… and now, you're also a rockstar in our families books too. Thank you for being our celebrant, MC, DJ, magician, and all round wedding-goddess. Thank you for being the one to give us permission to be ourselves. Everything our wedding was is thanks to the mini-Annie voice stuck in our heads telling us think outside the box, and do what we truly wanted. The result was better than we ever imagined and it's all thanks to you.
All our love, always
We were married in QLD in March 2021, after 2 postponements in 2020 (like most couples of 2020).
Our day finally came around and we were married by Annie in front of a small bunch of family & friends. What a day!! (Understatement of the century)
Annie had us all wrapped up in a bubble of love from the moment she started the ceremony. We laughed, we cried, we shared vows and then we boogied down the aisle to Prince as "wife and wife": our wedding ceremony video now on the "frequent watch" list for our 4 children (who always get something in their eyes when they watch it).
Annie is a wordsmith with serious skill- but outside of the "wordsmithery" she is a genuinely amazing human. She bounced with all the changes made to our wedding plans- from dates to venues to guests and a couple of other spanners thrown in for good measure, with energy, enthusiasm and a total "F#@K let's DO this!" attitude that had us at times in stitches, at all times relieved and just damn grateful to have her on board.
Whatever you do to make your day special, don't even consider this- book in Annie and your day will be all kinds of magical/funny as f#@k/loved up/full of all the best things.
Sharna & Danielle
Annie was not only our endearing celebrant, but also MC & DJ – what a trio!
Right from the start when we first engaged with Annie, we got along really easily and felt like we were in the hands of a true professional.
Annie eloquently crafted the most wonderful and loving ceremony for Berin and I, she was able to retell our love story so accurately, added a perfect amount of humour & made it feel truely special. Many of our guests commented on how lovely the ceremony was.
Annie followed it up with being an amazing MC & DJ, it all seemed to transition so seamlessly from ceremony through to the dancefloor at the end of the night. Thanks so much Annie, we had the most magical day made even more special by you!