BRISBANE, TOOWOOMBA AND SUNSHINE COAST
Without even meeting or speaking to you, we can 100% guarantee Izzy is excited for you. See the thing is, this star sign loving, dancing queen millennial loves all things weddings and to a greater extent – celebrating love. 
And we know what you're thinking, "Oh, she's a celebrant who loves love. How original." But without wanting to make you vom in your own mouth, Izzy is genuinely buzzed on the love juice. She loves being in love, feeling loved, seeing love, hearing love and most importantly, speaking about love! According to Iz, the love stuff is what makes the world go 'round, hence why she decided to become a celebrant. 
Outside of the wedding industry, Izzy works as a bean counter – ha! She's quite the anomaly. Accountant by day, transforming into a super celeb on weekends, exclusively hitching Australia's coolest couples. 
And if you're thinking Accountant/Celebrant is a bit of a random mix, let us tell you why it works so well. 
Izzy froths spreadsheets, organisation, lists and numbers. She has a thing for dates and prides herself on her ability to remember birthdays and anniversaries. If you tell her your dog's birthday, she won't forget it. Ever. So you can betcha bottom dollar she's going to be across every damn detail of your wedding too. With charisma and charm in spades, and a sharp intellect to boot, Izzy truly is a force to be reckoned with.
And just in case you aren't entirely convinced you need Izzy by your side, guiding you every step of the way along the wedding planning path, here's where she really value adds…
Izzy's aim is to set the vibe for your day, through delivering a totally personal, engaging and memorable ceremony with just the right amount of humour and sentiment. Basically, she wants you and your guests to feel like she's your best friend up there. Her friends and colleagues say she has the ability to make anyone around her feel comfortable, and we know she can do the same for you! 
Izzy has a strong eye for and pays particular attention to detail; she believes in 100% personalised ceremonies (i.e. none of this carbon copy shiz) and can troubleshoot like a boss, all the while making sure all the official legal paperwork is taken care of.
If you want to catch up for a coffee, juice, vino – whatever takes your fancy – to talk all things you, your partner and your day, shoot her a message! She would love to catch up and help you make things official!
 "Izzy was the celebrant at our recent wedding. I might be bias as Iz has been a friend of mine my whole life, but this only added to the personal touch which Iz put into our wedding.
Iz took care of all of the legal requirements so well, it didn't feel slightly stressful. Iz understood the feeling we wanted for the wedding (I.e. absolutely non-traditional) and her suggestions to make slight changes
to the ceremony showed this.
Il'l be in debt to Izzy for the rest of my life, as there is no way our wedding would have been the same without her."
Thanks again Iz.
-Dom & Brent, April 2021.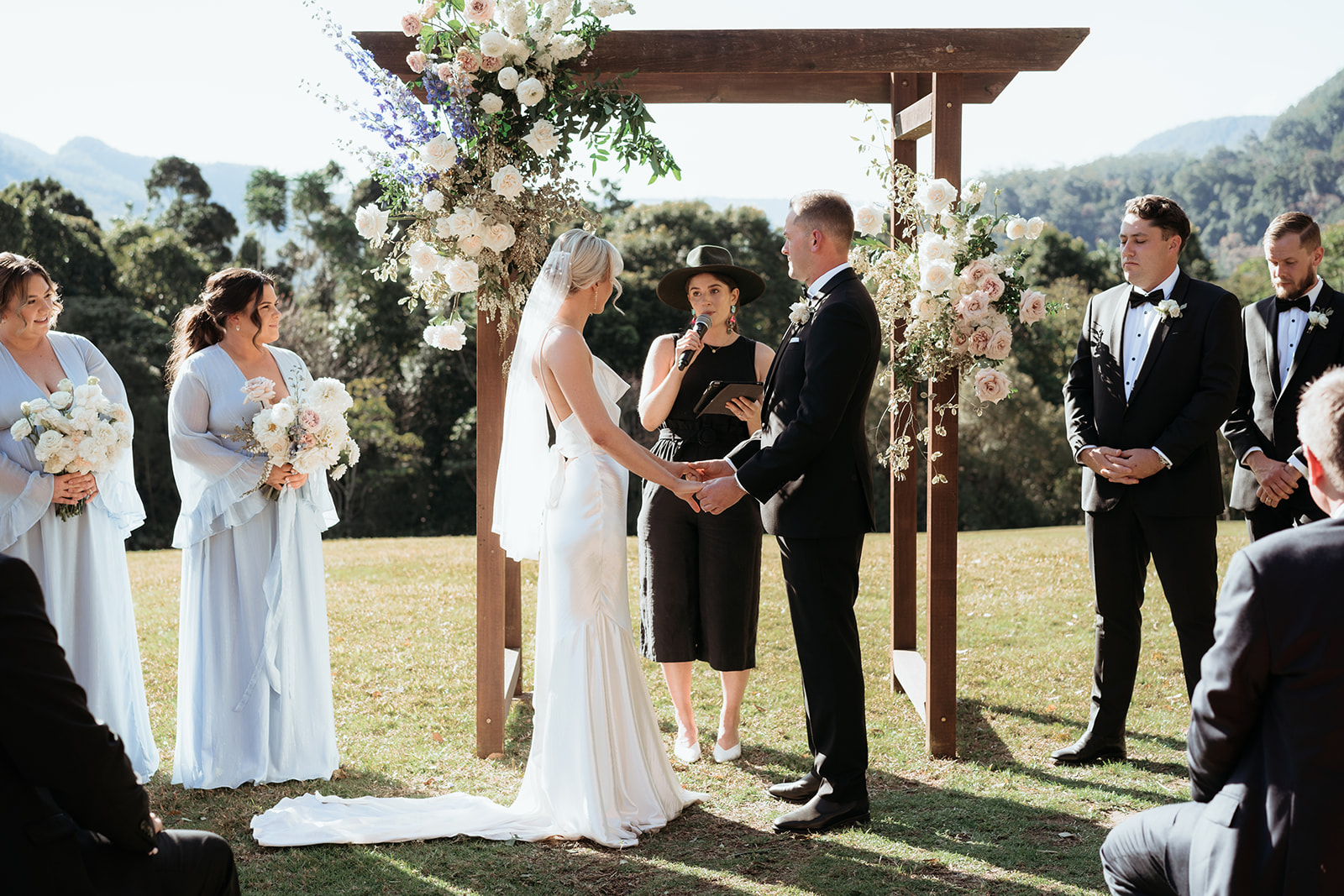 "Izzy is a wonderful, fun and positive person and we are so lucky to have found her! We asked Izzy to perform the celebrant duties at our wedding in October 2020. This became February 2021 after covid lockdowns forced us to postpone. Izzy was so understanding throughout the entire process of preparing. She helped us resolve a vision of a 'no frills' and 'honest' vibe into a beautiful ceremony that felt perfectly tailored for us.
She was incredibly organised. All the legal paperwork was handled professionally and promptly. Her final script gave us plenty of time to review and change anything as we required, though we changed very little. She coordinated with the venue to ensure the ceremony would run perfectly. We couldn't be happier with how the day went.
During the ceremony Izzy spoke with compassion and confidence. We noticed that for the impactful moments she would move off to the side to give the audience and the photographer the best visual. It was the small thoughtful things like this that made us even more appreciative of her efforts.
Thank you so much Izzy for preparing the perfect ceremony for us. We wouldn't change a single thing and cannot recommend her highly enough."
-Tom & Lauren, February 2021.