Meet Steph!
This girl has a smile and a heart so warm, she could melt the polar caps. Not great for global warming, but pretty spectacular for weddings.
Couples (like you) gravitate towards Steph because she is the kind of person who immediately puts you at ease. Her relaxed and open demeanour has a way of creating a level of comfortability usually only felt around old friends. She's gotten used to guests coming up to her after a ceremony and asking her how long she has been friends with the couple. Hehe… bit cute.
When you book Steph as your celebrant, you are not only gifted with a cracking ceremony, you also get to bask in the glow of her fun, effervescent energy – she is literally always smiling.
Steph knows what she is doing too. She is a talented wordsmith who loves writing and sharing stories. For her, the highlight of this job is forming connections, both with her couples and their guests. A natural entertainer, she loves to make people laugh and gets a real buzz out of making people feel all the things.
Steph believes in encouraging couples to create their own traditions and be bold on their wedding day. She embraces diversity, loves a challenge, and always works hard to ensure her approach to ceremony is inclusive, meaningful, genuine and fun.
If you have scoured the Sunshine Coast in search of someone who truly sparks joy and is invested in making your ceremony the best part of your wedding day, your search stops here.
You just found your match.
"Gorgeous, friendly and dedicated, Steph went above and beyond to create a ceremony that perfectly reflected us!"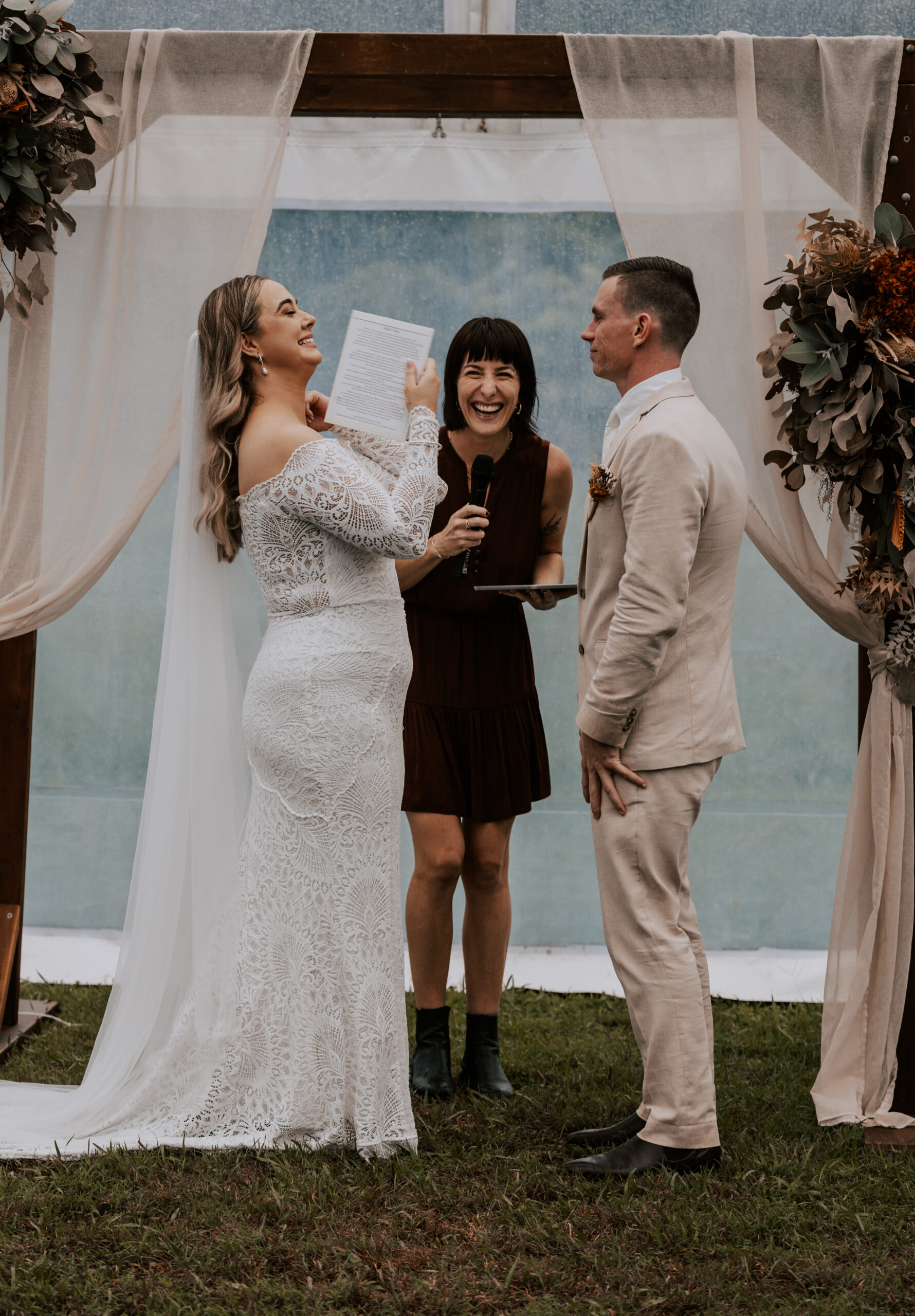 "I have no words to describe how incredible Steph truly is.
Our ceremony was just PERFECTION.
So personal and perfect for my husband and I – we haven't wiped the smile off our faces!
Steph is so kind and approachable, she takes the time to get to know you so she can provide the ceremony of your dreams.
Our guests also haven't stopped raving about how amazing the ceremony and celebrant was. There are not enough thank-you's in the world to tell you how deeply grateful we are."
"Our beautiful celebrant Steph, we don't know how to begin to thank you!
From the very beginning you tuned right in to us both as individuals. Listening to how we imagined our special day to be, and talking through all of our options (while bringing to light all the things we hadn't considered..)
The ceremony was exactly how we imagined, fun and relaxed. You made everyone we love feel welcome; however took control (because we hadn't done this before!) to make sure everything fell into place. "
"Steph was absolutely amazing!!
Steph is so kind and approachable, she took the time to get to us and it really showed throughout our ceremony.
Steph's words were so beautiful and personal and it just made our ceremony perfect.
Thank you so much!"
Steph was absolutely amazing and we can't thank her enough for our beautiful ceremony in Noosa. We highly recommend having Steph as your celebrant. She made the ceremony so personal for us which gave it that little bit of extra love and laughter. It was a perfect balance. She also made the process so easy and was a great communicator.