SYDNEY, BLUE MOUNTAINS, SOUTHERN HIGHLANDS, SOUTH COAST + HUNTER VALLEY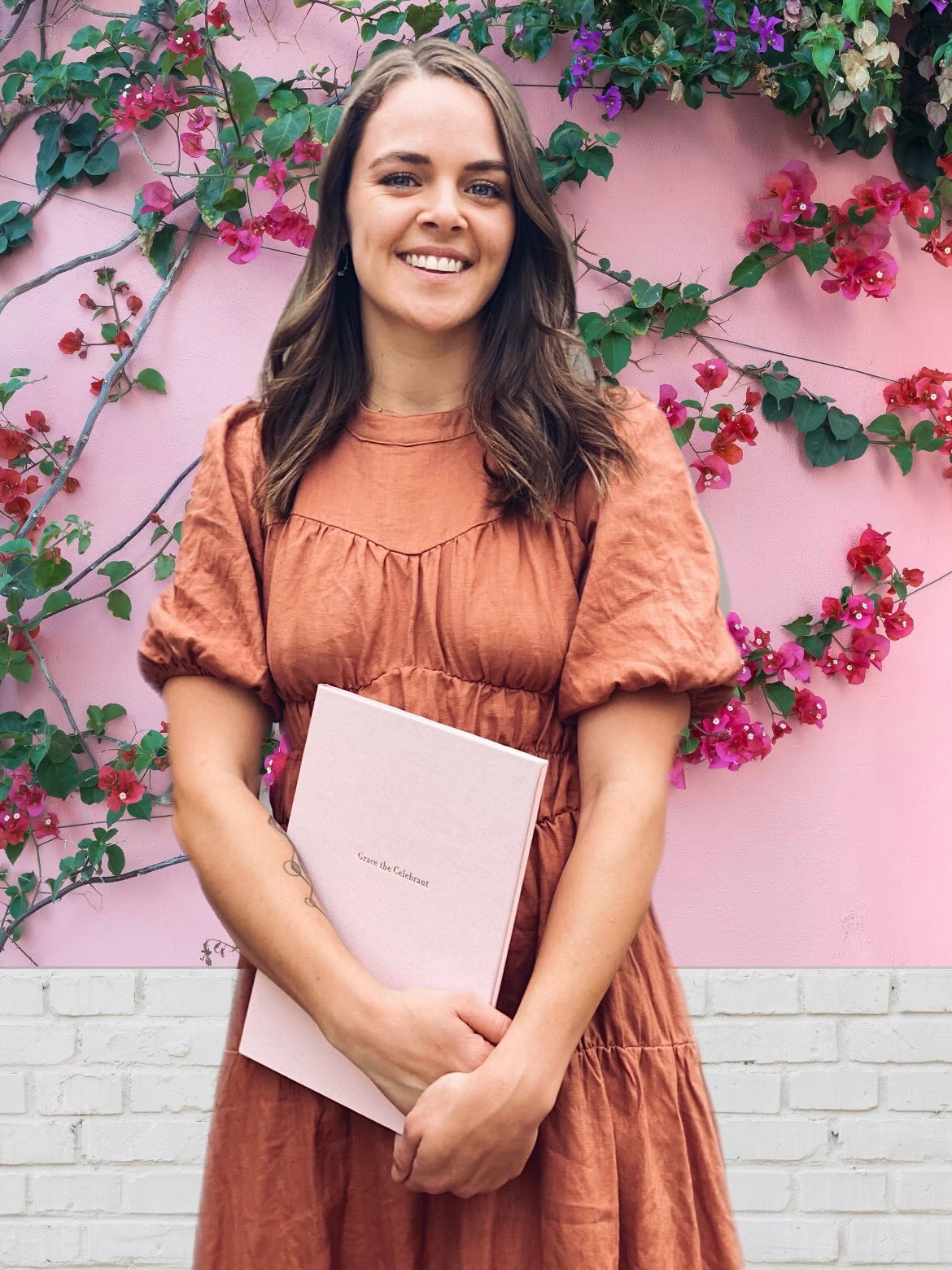 You've probably heard the expression – "You don't know what you've got 'til it's gone!" 
Whilst there might be some truth to that assertion, here at Lady Love, we believe it's also true that you don't know what you need until it arrives. 
ENTER GRACE.
She is the only person on your wedding day (aside from each other) you truly need.
It would be easy at this point to play up her name – 'Grace by name, and by nature' etc.etc. but we aren't about taking the easy route, and we would be doing Grace a disservice by describing her in such a simplistic fashion.
Grace is both multi-faceted and multi-talented. As such, she requires an introduction that lets you in on the many and varied reasons why couples (just like you) are banging down her door to meet her and have her marry them. So, here goes…
Grace is a people person – to her very core. Before becoming a celebrant, she spent the better part of a decade as a dietician, empowering her clients and helping them lead healthier, happier lives.
She's also a yogi – total zen master – so whilst managing events such as weddings, and dealing with the massive pressure of ensuring everything runs smoothly, Grace keeps a cool head, and ensures the people around her (particularly the ones she's marrying), feel supported and safe whilst she is in control.
Inclusivity is a core value for Grace, and she does everything in her power to create a respectful and safe space for people of all identities, regardless of race, size, religion, gender or sexuality. 
But what really sets Grace apart as a celebrant, is her genuine desire to really KNOW you. Grace believes that every couple's story is important and she approaches every client meeting with the same objective: to listen, connect and learn. She then takes all the goodness you give her, and packages it up into a unique ceremony that feels authentically you from start to finish.
Grace says this job sustains her because she gets so much energy from connecting with her couples, hearing their stories and regaling audiences with her witty and emotive stories. In truth, celebrancy doesn't really feel like a job for her – more of a joy and a privilege.
So, there you have it – all of the reasons why you need Grace.
A celebrant who is as invested in the joy and celebration of your wedding day as you are. And now all you need to do is lock her in before somebody else does! 
"...Our guests were simply blown away by Grace's charisma and storytelling. She was genuine, compassionate, and had great comedic timing!"
When we were in the beginning stages of planning and dreaming of our perfect day, we knew we wanted a low-key ceremony which would be unique and intimate. We wanted our ceremony to take place in a earthy setting secluded from everyday pressures yet closely connected with the natural landscape in which we live and love. 
From our first meeting with Grace we knew we had found the perfect person to help us weave these elements together to make our ceremony everything we imagined, and indeed more. Grace was instantly in tune with us and our love story. Her vibe and guidance magnified just how incredibly magical, wonderful and perfect our ceremony was on the day.
We'd been anxious to write our own personal vows, even though it was important to us that we did. But Grace had that part covered too. With her help, writing our vows tuned out to be such a fun, easy process with lots of giggles and smiles had along the way. 
From taking care of all the paperwork, to the heartfelt words spoken at our ceremony, we are forever grateful to have found Grace to be our celebrant. If we could do it all again, we wouldn't change a single thing. Grace, you are amazing.
Grace married my partner and I and we couldn't have been happier. Grace is so incredibly thoughtful and such a kind soul. She is an absolute professional that oozes charm and charisma. You can really see she LOVES doing what she does. She is an incredible celebrant but also an incredible human – our day was so magical and we couldn't have done it without her reassurance and guidance every step of the way. She pays attention to the smallest details and  conveyed both of our stories in a beautifully charming, funny and considerate way. We are very grateful to have Grace apart of lives forever and couldn't be happier with the result. Thank you Grace!
We feel so lucky to have had Grace as our celebrant on our special day. 
From the very start, Grace filled us with calm and confidence that is invaluable when planning a wedding. 
We wanted a not-so-traditional ceremony for our backyard wedding and Grace was on board straight away, helping us with suggestions to make the ceremony even more special!
On the day, we and our guests were simply blown away by Grace's charisma and storytelling. She was genuine, compassionate, and had great comedic timing. After the ceremony, even our closest friends came up and asked if Grace was an old friend they hadn't met before! Thanks again for being an instrumental part to the success of our big day.