Meet Laura! 
All-round total legend and Sydney-based celebrant and MC extraordinaire!
As a journalist, she is the ultimate storyteller. She is an experienced presenter and writer but most importantly LOVES weddings. Officiating them, attending them, talking about them, planning them – it's her happy place. After organising her own DIY wedding on an island (!) four years ago she decided she needed a Lady Love by her side. Better yet, she become one!
Originally from Brisbane, she now calls the inner west of Sydney home in a tiny terrace house with her husband and giant rescue greyhound. An inclusive ally, her vibe is relaxed, romantic, and fun.
By the time the wedding comes around, she will feel like a friend. Writing personalised ceremonies is her jam and will be true to who you are as a couple and your unique journey together. She knows how to get the best answers out of you, so the ceremony is uniquely yours. When she's not marrying her amazing couples, Laura spends her days writing and editing compelling stories so she can bring these skills to your ceremony creation.
Boy, can she deliver a memorable ceremony in a sassy suit! All her couples have said she has a calming energy which has helped them with nerves so they can just enjoy the moment. She captivates the crowd and will have them hanging off every word.
Before celebrancy, she was news reporter on national TV which means she used to thinking on her feet performing for live audiences and under pressure. Whatever happens on the day, she can handle it! Laura can anticipate issues before they even happen and get them sorted without you even noticing. She will go the extra mile for you – she even gave her jazzy reception sneakers to a bride with epic blisters to wear instead!
With years of professional voice and presentation training, she has also been an MC for many events and weddings. So, she can MC your reception like a boss too if you like! She loves a run sheet and will make sure your speeches have bang-on intros and keep time so the dancefloor can get going!
Her mantra is your wedding should be anything and everything you want it to be. Let's make it happen, lovers!
"SHE FELT LIKE A FRIEND FROM THE VERY START"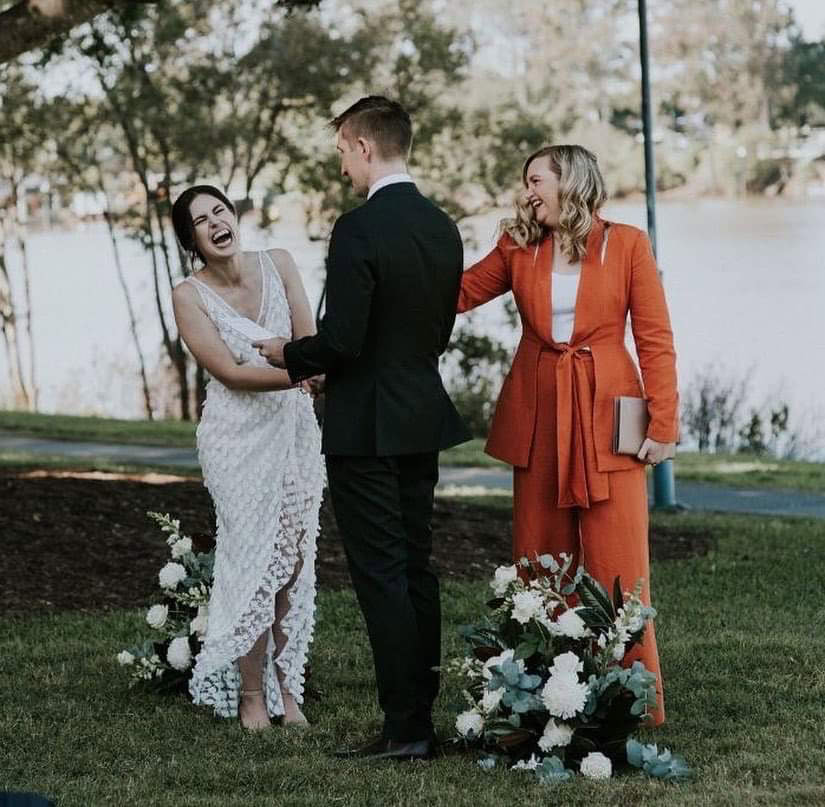 There are not enough words to be able to describe how thankful Kyle and I are for Laura… from the very beginning, Laura took the time to get to know Kyle & I. Was very professional – but also so friendly. She felt like a friend from the very start. She has such a warm personality, amazing positive energy, and the "get shit done" attitude. Which I love! She always took the time to answer me- whether that was an hour on the phone, meetings over lunch, my constant phone calls and texts! She was there.
Laura was more then just a celebrant – she honestly felt like my wedding coordinator at times! Haha sorry Laura! (Didn't help that Kyle and I planned this wedding in 5 weeks!) but she was ALL for it and was so helpful with getting things organized and planned.
Now, the ceremony. Kyle and I had so many people come up to us and tell us that it was the most incredible, most romantic, personal ceremony they have been to. Laura nailed it – it was absolutely perfect.
Laura went out of her way on the day to do so many little things that made the day run so smoothly! (Her husband also, is an absolute gem!! Thanks Mike for sweeping up the petals! They make such a great team) She even went as far as LITERALLY giving her shoes off her feet to me when my heels were killing my poor feet!
I could go on and on about Laura – if you are looking for someone who is personal, professional, caring, fun, organized, romantic and just down right amazing; don't look any further. Laura is your girl!
Thank you from the bottom of our hearts for everything you did for us, Laura. You are one of a kind!
MADDIE + KYLE
Laura, my guardian Angel. Where to even begin!? Laura was orchestral is helping piece everything together in a controlled, calm and fun manner. She brought vibrancy with professionalism with a seamless ability to keep everyone on track.
She went through some fabulous questions to really know the true us on our first meeting making it very personable. Having her touch base throughout the process over the phone rather than email for me was extremely helpful along with a dress rehearsal to get us excited but take out those jitters.
She was a brilliant MC on the night as well, she had the crowd in tears – both laughing and crying. She took the time to find lots of background on our speakers so the introductions were hilarious and spot-on. She did so much running around behind the scenes that we only found out about later to make sure the night was a total success.
You won't go wrong, you won't regret it, she is fabulous!
 KATE + TODD
 Laura was our celebrant and wedding MC and was an absolute dream to work with. Her ability to retell our story in such an intimate yet fun way was a highlight of our whole wedding. From the initial consultation it was like having coffee with a friend. She made us feel so comfortable and walked us through the whole process. From telling our story to guiding us in writing our vows, Laura made it feel effortless and sound like a fairy tale.
I can't thank Laura enough and highly recommend having her be part of your wedding day.
MAYA + JAIME