Meet Aleks!
Melbourne town has a fresh new cele on the scene and she is THAT GOOD, she's already filling her books with loved-up couples who are (understandably) over-joyed to have her with them on their big day.
Recently described as "refreshingly normal" by one of her clients, Aleks is basically your wedding day bestie. Having worked in the industry for a number of years as a DJ, she knows all there is to know about how to roll out a cracking celebration that will be remembered for all the right reasons.
She describes her celebrant style in much the same way as she describes her personality and values – fun, warm, inclusive, progressive and informal. She detours around anything stuffy or pretentious, and does everything in her power to just KEEP IT REAL. Her ideal clients are looking for a ceremony that is relaxed, unique, authentic and signify the start of the party!
Aleks is all about the story-telling aspect of your ceremony, and making you shine as couple. She acknowledges and embraces the fact that her clients come from wide and varied backgrounds and so, whilst she is relaxed in her approach, there are a few things she takes very seriously. The first of which involves getting to know you so that she can make sure she's representing you in a way that honours both your story and your connection.
Couples warm quickly to Aleks because she is a people person! An expert communicator, she absolutely loves getting to know people, writing and story-telling. So much so, that she has made a career out of it (and she's not done yet!). Aleks co-hosts a podcast, is a highly sought after DJ, and even finds time to mentor other wedding industry folk too! Basically, she's a weapon.
A wedding day weapon.
A one-stop-shop.
And an absolute ray of sunshine to boot.
If you want this ridiculously talented and gloriously charismatic Lady Love at the helm, steering your wedding day ship towards the best party action Melbourne has to offer, then you best be hittin' that contact button toot suite!
"1 MILLION OUT OF 10!
COULD NOT RECOMMEND HER MORE TO
ANYONE GETTING MARRIED!"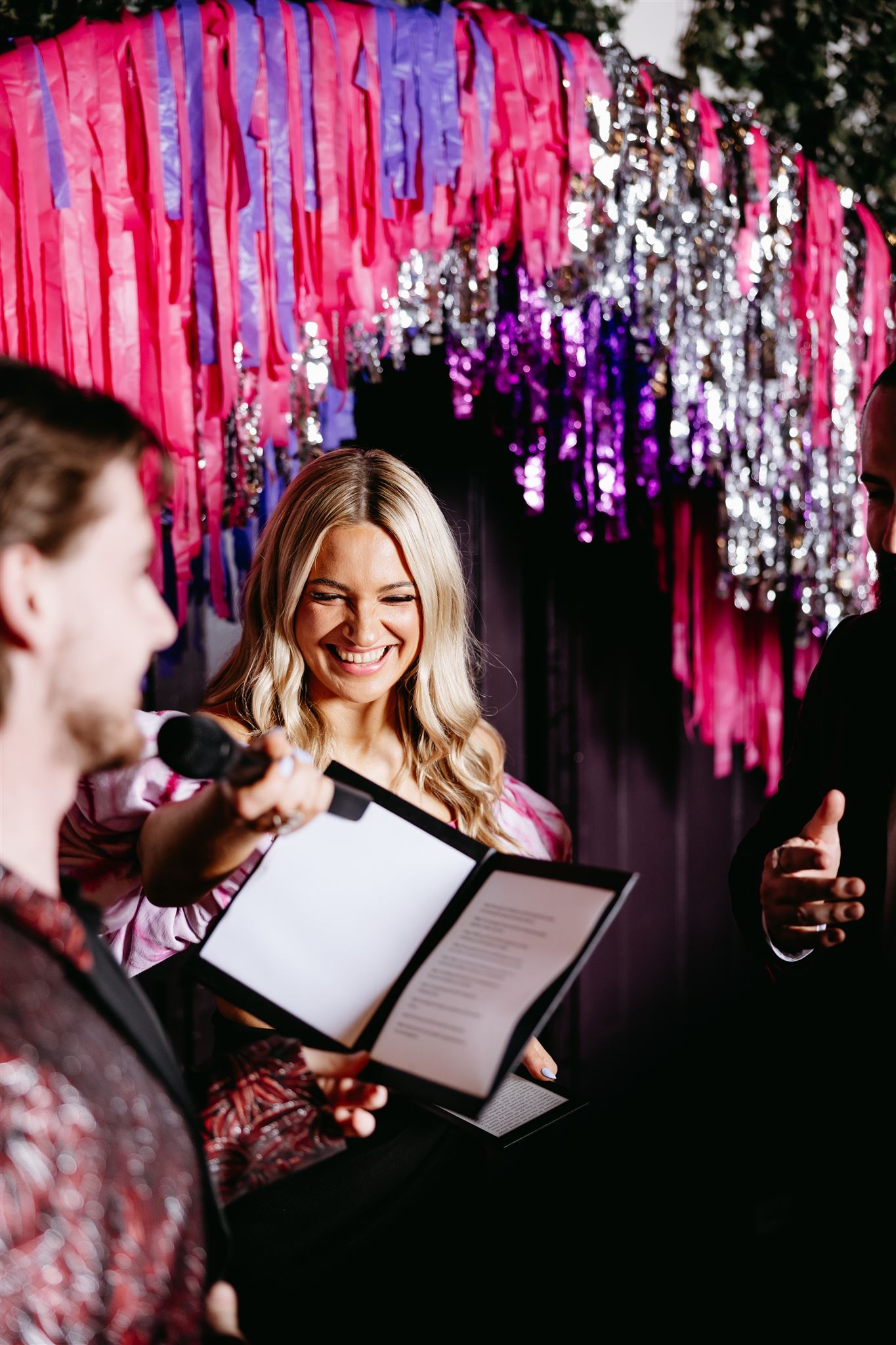 "Aleks is hands down a MUST HAVE for your wedding! Her never ending smile, incredible energy and second to none knowledge of the wedding industry makes her possibly the most important person to have by your side on the big day – we love a one stop shop and she has it all – 1 million out of ten, could not recommend her more to anyone getting married!"
AMBER + COREY
"From the first meeting you could see that Aleks was very passionate about what she does, and also takes it seriously. She was our MC, and took all the last minute changes in her stride with an amazing smile (because if things don't go wrong on your wedding day, did you really get married??) We are so glad that Aleks was a part of our day, we couldn't have been able to do it without her!!"
STEPH + ALEX
"As soon as Aleks said she was available for our day, I locked it in and never looked back. One of the BEST decisions we made. Amazing to work with from start to finish…friendly, organised and professional…and super patient with all my slow responses leading up to the day (needs an extra gold star for that!!! :)) I may or may not be trying to conjure up another event just to book her in for another epic party! Thank you SO much Aleks, you are a legend!"
ANGELA + ROD
"Sitting down and talking with Aleks was like sitting down with a good mate. She got us and our vibe straight away, which meant leading up to the wedding there wasn't a stress in the world. She hit every beat (pun intended) on the night and it ran flawlessly. We are just waiting for an excuse to have another party now ;)"
TASH + CHAYSE