Laura and Shaun met over eight years ago working at their local supermarket when Laura was just 16 and Shaun 19. They both admit to falling for each other very quickly and one day, while cutting pumpkins at work, Shaun asked Laura to be his girlfriend. Laura said it was very sweet (and a bit awkward). With butterflies in her tummy, she happily accepted the request.
I first met Laura and Shaun towards the end of April, exactly one month before their wedding date.
I had come across their story on a bridal forum where Laura was discussing the need to cancel their wedding for the THIRD time due to her failing health and the financial strain an impending overseas surgery was placing on her and Shaun. She was understandably upset.  No sooner had she posted about her dire circumstances and people started replying. "DON'T CANCEL!" was the overwhelming response from the forum. An overwhelmed Laura began receiving offer after offer of donations of time, resources, skills and support from fellow forum members and vendors (me included) and before she knew it, her wedding was back on. But she didn't have much time as her need for surgery was becoming desperate. Planning an entire wedding in four weeks when you are in constant pain and practically home-bound is no small feat but with the help of some pretty remarkable people and the support of their family and friends, Laura and Shaun managed to pull it off.
Now, back to where I came in. I had organised to meet Laura and Shaun in order to complete some necessary forms and get to know them a bit better. After spending just a short amount of time with them, it became bleakly obvious how much strain and pressure this couple was under. Through tears, Laura gave me a run-down of what the last two years had been like for them, following a serious car accident which left her in chronic daily pain. She told me about how she had been in the middle of a three car pile-up one rainy morning on her way to work. During the accident she suffered multiple injuries including broken fingers, several fractures to her nose, cuts, bruises, whiplash and a crushed spine. She was released from hospital the following day, her face almost unrecognisable, with just a pair of crutches and an underestimated report from doctors on the extent of damage to her spine. Afterwards Laura felt pressure from her employer to get back to work as quickly as possible and so, despite suffering huge panic attacks (symptomatic of PTSD) every time she got in the car, she returned to work after only two weeks. Her face healed over time but the constant pain she was in from her back injuries lead to other problems including depression and anxiety. Upon professional advice, she opted to take several months off work in order to give herself a chance to recover.
It took a total of three months to get a proper diagnosis for the broken disc in Laura's back. At one point she was given some steroidal epidural injections to try and help ease her pain but these resulted in even more pain and temporary paralysis of her left leg and bladder. She was in hospital for two months recovering. This placed her emotional state under even greater strain and she has had lingering problems ever since, often requiring the use of walking aides to get around. As if her situation couldn't get any worse, her surgeon had to put her through a series of painful tests in order to prove to her insurance company that she was a good candidate for surgery. Finally, a year after the accident, Laura got her surgery. Everything was supposed to be easier from that point on but Laura struggled to recover post-operation. She remained in hospital for another two months. Passed on from doctor to doctor, and placed in the "too hard" basket, Laura endured months of being told there was nothing wrong, that the surgery had been a success and that the pain was all in her head. She felt completely helpless and alone.
Eventually, Laura and Shaun found a doctor who was willing to help them by thoroughly investigating her pain. It turned out that the prosthetic had been moving out of her spine since the surgery took place and in order to fix it she would need yet another operation. But this time it was far more serious.  Originally Laura was told that the risk of fatality or paraplegia for this procedure sat at about 20% – fairly significant by any standard. Recently, after reassessment, that risk has been recalculated to sit at around 60%. And so, faced with a live or die situation, Laura and Shaun are making the most of the time they have together and doing their best to stay positive and plan for the future.
This wedding was special for so many reasons.
Set among the picturesque landscape of the Gold Coast Hinterland is Peppers Ruffles Lodge & Spa – Laura and Shaun's dream wedding venue. I arrived to find an amazing ceremony set up, complete giant love letters, a magnificent arbour and hessian/lace aisle runner. The sun had just started to set and, although a little chilly, the sky was streaked with burnt orange, pink and purple, making for a breath-takingly beautiful backdrop.
I went in to check on Laura who had just taken some medication (in order to help her cope with her pain), got into her dress and was having some photos taken (in between teary moments with her bridesmaids and mum). I asked her if she was ready and she gave me a nervous smile and a nod.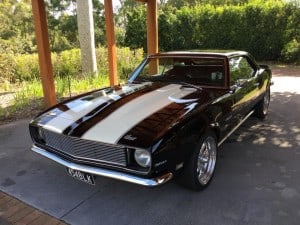 Shaun had just returned from a quick joy ride in the Comaro 454 Laura had organised as a surprise for him – the Comaro is his dream car – and was brimming with emotion.
Finally the moment came for Laura to walk down the aisle. Her arm held tightly by her dad, she slowly made her way to Shaun, declining the use of walking aides. To say she looked beautiful would be a gross understatement.
Shaun's face beamed with pride as he watched this fierce woman, in all her strength and beauty, make her way to the altar to join him in marriage. I couldn't help but notice all the tissues out amongst the guests as they witnessed the ceremony. It took everything I had not to get leaky eyes myself. In her vows, Laura thanked Shaun for loving her when she has been broken and having patience with her; for making her feel safe and secure and for helping her to heal. Shaun quoted lyrics from one of his favourite songs to Laura saying, "We'll walk this road together, through the storm, whatever weather, cold or warm. Just letting you know that you're not alone." I felt extremely honoured to be able to stand there with them as they reached this long overdue milestone and pronounce them as husband and wife.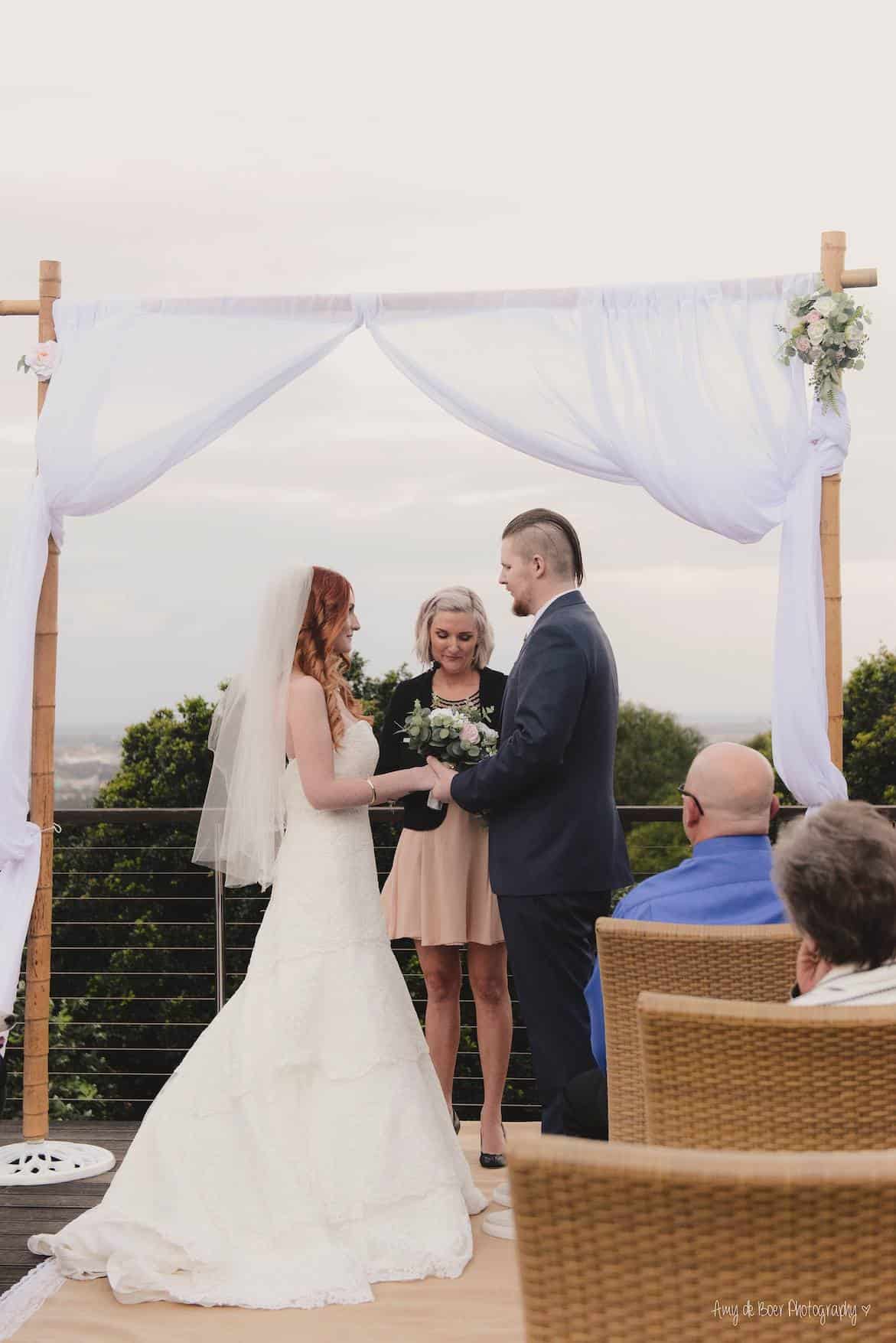 As Laura and Shaun exited down the aisle a newly married couple, I noted (once again) how fortunate I am. To be there on the happiest day of people's lives and see them open up their hearts to one another in such a public display of love and devotion, really is a joy and a privilege.
Dear Laura and Shaun,
Thank you for sharing your story with me and allowing me to take part in your special day. Your courage and hope for the future fills me with admiration and I wish you both health and happiness. Congratulations on achieving such an amazing day and becoming husband and wife.
Good luck for what lies ahead.
Annie x
A team of talented, kind-hearted vendors worked tirelessly to make this day happen; they are:
Venue – Eseta from Peppers Ruffles Lodge and Spa – http://www.peppers.com.au/ruffles-lodge
Amy De Boer Photography – http://www.amydeboerphotography.com
Videography by Amy & Jack from Twelve 08 Studios – https://www.facebook.com/twelve08studios
Makeup by Sarah Ham – https://www.facebook.com/essenceofmakeupbysarah
LOVE letters by Event Letter Hire – https://www.facebook.com/eventletterhire
Angie May Photography – https://www.facebook.com/pages/Angie-May-Photography
Styling by Sharon Street of Heart To Heart Wedding Styling – Event Hire – https://www.facebook.com/HeartToHeartWedding
Hair Dresser – Helena McNaught
Flowers by Mandy McShae – Silk Serenity Bouquets
A special thank you to Amy De Boer for allowing me to use the beautiful images captured above. You are a star.
In the interest of protecting identity, names in this story may have been changed.